Design, Master Programme
120 hp
The Design Master Programme is a second-level, two-year programme with Transdisciplinary Design and Sustainability as its main field of study.
Design involves creativity, criticality and transformation. Design calls into question the state of things and makes an impact. Design challenges preconceptions, prejudices, norms, and stereotypes and provokes emotions, thoughts, sensibilities and actions. Design can enhance our lives and our relationships to the world. It can make us attentive and empathic to the ecological and socio-cultural systems in which we live. In a world of many challenges, design can be an agent for sustainable change.

In shaping our futures, designers will face unprecedented challenges compared to what conventional designers faced during the twentieth century. In fact, the role of the designer will and should change. Instead of only designing for mass production, which was important during the first phase of industrialisation, designers of futures must handle multiple roles and increasingly complex issues. As agents for change, designers will play key roles in shaping futures of sustainability.

On the Design Master's Programme at Linnaeus University we challenge the traditional role of the designer, working across disciplinary and media boundaries to define new roles that meet contemporary and future needs. For design to confront the crises we are now facing, we need to work together with other academic disciplines and cultural practices and in partnerships with professional designers, community organisations, businesses, activists and governmental bodies.

Students on the Design Master's Programme can choose to extend their existing knowledge in a specific design field or explore new ones. The programme focusses on artistic and experimental processes and creative research, and students will develop their capacity for critical reflection in making well rounded and futures oriented design proposals. Particular attention is paid to contemporary and emerging design disciplines such as critical and speculative design, social design, metadesign, design activism, service design and co-operative design. Furthermore, students are introduced to and practice relevant methods for questioning the current state of things, opening up to ways of thinking and shaping futures creatively and differently.
Career
Students are expected to develop their artistic and personal maturity as well as a responsible attitude to the design profession. As a result you will be well prepared to work in an exploratory way with concept development, prototyping and implementation in complex projects at an international market and in a leading role.
Degree
Master of Arts (Two Years)
Application and portfolio
Application and portfolio
Portfolio Guidelines MFA Design Master 120 ects, 2017
For your submitted portfolio to be deemed complete, it must consist of two components:
1. Representative work
2. A letter of intent
1. Representative Work
Your portfolio should include a selection, 10 pieces, of your most creative work, and should represent a variety of design and art approaches and outcomes. We encourage you to choose work that demonstrate the range of your interests, also outside of your studies. Submit the 10 pieces on our website, drexel.lnu.se/portfolio in PDF, PNG or JPG-formats. You can upload maximum 50 mb total.
In the upload form, enter a brief description of the work you upload.
2. Letter of intent
Please write a letter of intent that on one A4 page describes your interest in design focusing on:
– What are you curious about?
– What do you want to change through design?
– How do you want to use your education to reach your goals?
The letter of intent will be evaluated in terms of:
• Your capacity to envision and plan your future as a designer
• Your proficiency in expressing yourself in English
Submit your letter of intentions to our website, drexel.lnu.se/portfolio
in PDF, PNG or JPG-format.
The application process consists of two steps:
Step 1
Apply to the programme online at www.universityadmissions.se (in English), or www.antagning.se (in Swedish). Submissions of documentation attesting your eligibility for Bachelor´s level study must be submitted here.
The following programme codes and deadlines apply:
• For non EU/EEA students requiring a visa to study in Sweden:
Please submit your application to programme code LNU-F5200
by 15 January 2017
• For Swedish and other EU/EEA students not requiring a visa to study
in Sweden: Please submit your application to programme code LNU-52000 by 15 April 2017
Step 2
Submit your portfolio to Linnaeus University (LNU).
(please refer to pp. 3-4 of this document for instructions regarding portfolios)
The deadlines by which portfolios must be received by LNU are:
For non EU/EEA students requiring a visa to study in Sweden:
27 January 2017
For Swedish and other EU/EEA students not requiring a visa to study in Sweden: 28 April 2017
Acceptance to the programme
If you meet the eligibility criteria, your application will be accepted and
evaluated on the basis of your portfolio. Evaluation of portfolios is conducted by a selection committee consisting of faculty members, external
experts, and current BFA students. The portfolio is regarded as a whole
and the portfolio is evaluated in terms of the following criteria:
• Artistic quality
• Visualization skills
• Creative approach
After submitting your application and portfolio you'll be contacted if you have been selected for interview. We offer a telephone/online interview.
The university will not disclose the reasons behind the decision to accept or reject any individual application. Approved students will be notified through www.universityadmissions.se or www.antagning.se.
Checklist for Application
I have submitted my application through antagning.se or universityadmissions.se
I have prepared my portfolio according to the guidelines provided.
I have included a Letter of intent with my portfolio.
I have uploaded my portfolio on drexel.lnu.se/portfolio and made sure that all my files are included, and that I have submitted written descriptions of my uploaded files.
Questions?
If you have any questions regarding the application or permisson related issue don´t hesitate to inquire by e-mail to Admissions Office: admission@lnu.se
If you have any questions regarding the portfolio or other questions about the programme don´t hesitate to inquire by e-mail to programme coordinatior: fredrik.sandberg@lnu.se
George Green, from London, England

Please describe your product
"I created a tool in the form of a card deck and associated activities that help to discuss and make tangible brand identities, values and visions. It can be used further to develop a universal language between designers and clients and provide a framework with which to develop new projects. Combining ice breaker, matching and mapping challenges the deck is fast and efficient to use and can be expanded upon with new cards over time to remain fresh and relevant. Empathy and understanding through co-operative activities
cements relationships, speeds up decision making and generates knowledge for all involved parties."
How would you describe co-operative design for someone not
familiar with the topic?
"Co-operative design is an approach to projects and challenges that is pro-active in
including all stakeholders in the research, design and creation process. These can include users, manufacturers, partners, distributors etc. It can be difficult to find and generate suitable methods that facilitate this type of participation, but its value lies in understanding and building empathy for the wants and needs of others."
Name three things that you think represent Sweden
"Fika, the outdoors and sustainable living."
Andrei Zberea, from Moldova, Chisinau

Tell about your project
"My Master Thesis is about Sustainable housing for students, which goes beyond what we consider typical housing. In this thesis project I depicted an environment/future in which students and regular people could move with their home without boundaries. A student has the possibility to relocate with their home to different places and universities using normal means, and reconnect to an infrastructure with no complexities."

How would you describe speculative design for someone not
familiar with the topic?
"Speculative design is basically imagining the future - how thing can be and what possible future we can predict. Critical Design is about challenging preconceptions and defying the norm; by criticizing we can make changes - an opposite of affirmative design in which the idea is supported."

Name three things that you think represent Sweden
"I think that Sustainability, Innovation and Equality are the things that represent Sweden"
Danyang Chen from China


What is your Master Thesis about?
"The project aims to create a sharing furniture, which used in living room, for young single person households. By using this furniture, they can enjoy the time being alone at home and also enjoy the leisure time with others, for example, through the Swedish social phenomena - fika."
How would you describe fika and Scandinavian design for someone not familiar with the topics?
"Fika: Just as normal as daily meals.
Scandinavian design: Pure color. Pure function."
Name three things that you think represent Sweden.
"IKEA, Absolute Vodka, Wood Horses"
#humansoflnu
Följ oss på Instagram.
"My time at Linneaus university has been with ups and downs, sometimes concerning, sometimes reassuring, but always allowing me to be who I want to be and do what I want to do, which is design and create change. We work on a project now that is called Can you Manage? We will have an exhibition this week about how the ability of design can criticise and point out issues. Not to offer an actual solution, but instead to make someone understand and question the issue we criticise. It is something I would have never thought I would find exciting, but I learned the opposite is the case. The best thing about the programme is the ability to explore new paths and approaches to design that go away from the ordinary in order to find designs and solutions that are timely, relevant and effective for change." /Lennart Schmitz, student of the master programme in design
Meisam Kalantari, from Iran
After I did a glass design course at the summer academy in Kalmar, it helped me to get a better image of this university, and then I decided to continue my studies at LNU because there are a lot of experiments here, more practical work than my studies before. I hope I can learn more stuff and improve my design skills every day, that´s the reason why I'm here.
The education has been good so far. We have done some interesting projects until now and we have just started three months ago! The best about studying here is that it´s creative, practical, project based and innovative. And we have different professors for each course, which is really cool.
The best about Sweden is that there is not a big gap between poor and rich people or at least it's not obvious, which I found very noticeable. More is that Sweden is good in design. I love that everything is minimalistic here, it could be also considered as a Swedish mindset or lifestyle. The other good thing about Sweden is the nature! The Scandinavian nature is really awesome. People also take care very much of the forests, and recycling and sustainability which I love.
Nastazja Niedziela, Poland
The start of the education has been better than I thought it would be. We are not just talking about design but doing things all the time.
The best about studying here is that we are making things, rather than just speculating about them.
The best about Sweden is the cultural mix. If you want to study here, consider the finances, and the limited accomodation.
Xia Xinyu, Wuhan, Hubei Province, China
I chose to come to Linnaeus University because of the fantastic Scandinavian design, and Ikea.
The start of the education has been exciting but nervous, both to get used to the way of Swedish education and group discussions. The best about studying here is that I get to deal with the wooden furniture and deepen my knowledge about the design process.
The best about Sweden is the natural landscape and the democratic society. If you are coming here to study you should consider the different cultural conflicts and the idea of what good design is.
"The best about Sweden is it´s nature and the secure way of feeling."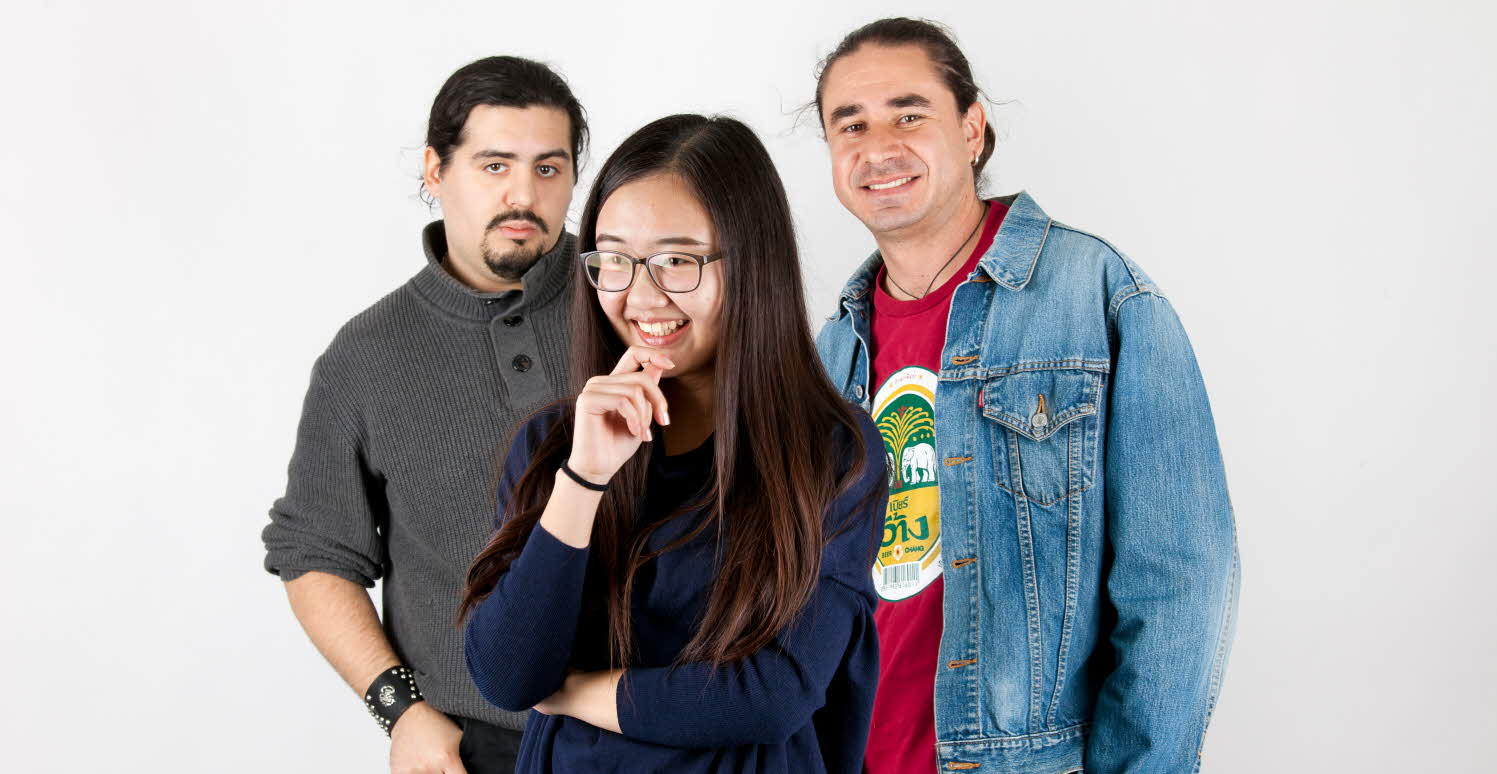 John Modh, Sweden/Peru

The start of my education have been very fun and learning.The best about studying here is great friends, good education and good teachers.
The best thing about Sweden is the free education!
Huanyu Li, China

I chose Linnaeus University because of Ikea, and I think that the Swedish culture is more human.
The best about studying design in Sweden is the weather, the peaceful area and the different culture backgrounds between us students. If you think about coming here to study you should consider the cultural difference, the language and determination.
Taneli López Vallejo, Mexico/Finland

I chose Linnaeus University because I thought it is a good opportunity to see another city of Sweden. Not the big ones.
The education has been so far good. The best about studying here is great teachers with different backgrounds.
The best about Sweden is it´s nature and the secure way of feeling. You should look in advance to get a place to live if you consider coming here.
Växjö