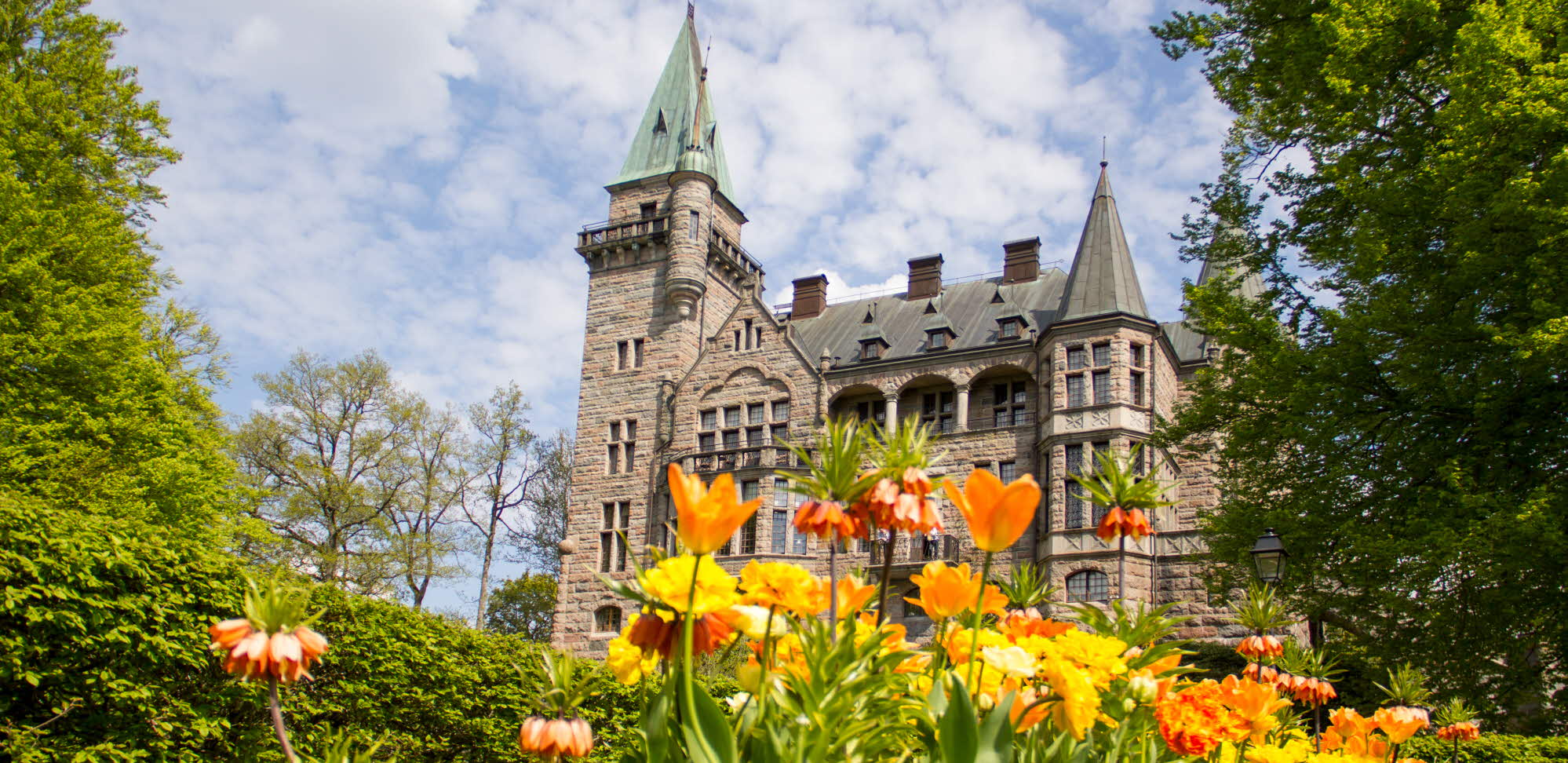 Quantum Information Revolution: Impact to Foundations‽ (QIRIF‽), 9-13 June, 2019
International conference devoted to analysis of foundational impact of the recent quantum information revolution at Linnaeus University in Växjö, June 10-13 , 2019. Arrival June 9, departure June 14, 2019. The last conference day will be the intensive conference day, with a planned ending at 18.30.
The conference Quantum Information Revolution: Impact to Foundations‽ (QIRIF‽) is arranged by International Centre for Mathematical Modelling in physics, engineering and cognitive sciences (ICMM) at Linnaeus University in Växjö, Sweden. This is the jubilee 20th Växjö conference devoted to quantum foundations and applications of quantum theory, especially quantum information and probability. This conference is aimed to highlight and at the same time to question the foundational impact of the recent quantum information revolution and to enlighten recent novel contributions to quantum foundations, theory and experiment.
The recent quantum information revolution had not only technological, but also foundational outputs. It changes completely our image of quantum theory by emphasizing its quantum information dimension. At the same the quantum informational viewpoint on quantum theory can be questioned and criticized. In June 2019, Växjö will be the place to present both quantum information novelties and critique against them.
We invite all kinds of contributions devoted not only to coupling of foundations with the quantum information revolution, but general development of quantum theory and its mathematical formalism, as well as its novel applications including applications outside physics. The areas covered include: foundations of quantum information theory and quantum probability; generalized probabilistic models; quantum contextuality and generalized contextual models; Bell's inequality and entanglement; quantum nonlocality, hidden variables, original Bell inequality versus CHSH inequality; quantum computing (coming technological realization or "quantum focus-pocus"?), quantum cryptography and teleportation, weak measurements: theoretical and interpretational questions; time symmetric interpretation of QM; many worlds interpretation; quantum-like models outside physics; derivations of quantum formalism from natural postulates; the role the complementarity principle in quantum information theory; complementarity versus contextuality; recent foundational experiments; quantum information technologies. Of course, possible topics of talk need not be restricted to the listed above; any contribution directed to development of quantum foundations, theoretical and experimental, and the corresponding mathematical apparatus as well as philosophical analysis are welcome.
Organizing committee
G.M. D'Ariano (University of Pavia, Italy)
H.-T. Elze (University of Pisa, Italy)
A. Elitzur (Bar-Ilan University, Ramat-Gan, Israel)
C. Fuchs, (University of Massachusetts Boston, USA)
S. Glancy (NIST, USA)
G. Jaeger (Boston University, USA)
M. Kupczynski (Université du Québec, Canada)
T. Nieuwenhuizen (University of Amsterdam, the Netherlands)
A. Plotnitsky (Purdue University, USA)
Local organizing committee
Invited speakers
Presentations will be added at a later date.
Special sessions
Derivations of quantum formalism from "natural axioms" - organizer M. D' Ariano
QBism in Växjö: A Celebration - organizer C.A. Fuchs and R. Schack.
Applications of quantum formalism outside of physics - organizers A. de Barros, E. Haven, C. Gallus, and A. Khrennikov
Conference fee, registration, and abstracts
All participants, including invited speakers, are requested to pay the conference fee. Because the conference budget is created by conference fees only, all participants are kindly requested to pay the conference fee at their earliest convenience. This situation is a consequence of the annual character of the conference series during 20 years. The conference organizers have already used the majority of foundations to support the series. We would appreciate any advice to a possible source of the conference support.
Registration, conference fee, and abstract submission
Follow this link to register!
Last day to register: May 2, 2019
Linnaeus University does not accept cash payments. Better for the environment and for our safety. You pay the conference fee by credit/debit card when registering and you also use card to pay in our stores. You can also pay the fee via bank transfer. The trend throughout Sweden is that fewer and fewer places accept cash.
Accomodation and travelling
Accomodation
Please observe that each participant has to book hotel accommodation by him-/herself. Special rates have been negotiated with hotels for participants of the conference. Also, please quote the booking code QIR when booking a room to obtain these rates (write it in the subject line of the e-mail). It is possible only to book for the period 09-14 June 2019. Our reservation of rooms in Elite Hotels is valid only until April 9, so please make booking before this date.
P.S. As you can see there are two Elite Hotels in Växjö, so please be careful and remember which hotel you have booked!
1) Elite Park Hotel (Konserthuset) - booking code QIR.
Västra Esplanaden 10–14, Box 434, SE–351 06 Växjö, Sweden
Phone: +46 (0)470–70 22 00
Fax: +46 (0)470–475 77
E-mail: info.parkvaxjo@elite.se
Web: www.elite.se/en/hotels/vaxjo/park-hotel
2) Elite Stadshotellet Växjö - booking code QIR
Kungsgatan 6, Box 198, SE–351 04 Växjö, Sweden
Phone: +46 (0)470–134 00
Fax: +46 (0)470–448 37
E-mail: info.vaxjo@elite.se
Web: www.elite.se/en/hotels/vaxjo/stadshotellet
3) Teleborgs slott - booking code QIR
Adress: Slottsallén 12, SE-351 12, Växjö (on campus!)
Phone: +46 (0)470–77 86 60
E-mail: info@teleborgsslott.com
Web: www.teleborgsslott.com (in Swedish)

Other possibilities (for cheaper accomodation; no special rates):
Travelling
How to get to Växjö/Linnaeus University
You can reach Växjö either by flying directly to the city - from Stockholm/Bromma Airport or Amsterdam/Schiphool - or by flying to Copenhagen airport Kastrup or Stockholm airport and taking a train to Växjö, click for more info at Växjö Smaland Airport website!
Click here for the train table, from for example "Copenhagen airport" to "Växjö station".
Travelling between central Växjö and Linnaeus University
For connection to Växjö Smaland Airport, either a taxi or bus is recommended:
Taxi
Växjö Taxi, +46 (0)470–135 00, or Värends Taxi +46 (0)470–169 00. The taxi stand is situated at Resecentrum (the Travel centre, i e the train and bus station).
Bus
There are three alternatives for travelling by bus between Växjö city centre (bus stop "Stortorget" which is the closest to the railway station (Resecentrum") and the university:
• No 3 (Centrum (Stortorget)>Universitetet and Universitetet>Centrum (Stortorget)) goes directly to the university, and is thus recommended.
• Another alternative is to take bus No 1 (Centrum (Stortorget)>Teleborg and Teleborg>Centrum (Stortorget)) or No 5 (Centrum (Stortorget)>Lugnadal>Teleborg and Teleborg>Lugnadal>Centrum) to/from Teleborgs Centrum, which is located at an 8–10 minutes walking distance from the university.
All bus routes are operated by Länstrafiken. Click here for bus time tables.