Regional press project - REGPRESS
A research project which investigates what the regional press means in a global media culture.
What is REGPRESS?
The purpose of this project is to understand the role of regional media in southeast Sweden. The regional press has a strong presence and has been part of the regional life since 1841.
The print media has long had a significant influence in society as a fourth estate. The daily press has long been engaged in critical analysis of social phenomena and authority and acted to help increase community involvement. Even on the basis of this strong position the regional press face a number of challenges such as increased convergence and maintain storage numbers, selling advertising space and maintain their distribution areas.
The project will address the emerging issue of the role and value of regional media has in our modern media society. How do you connect the media to the local population? How does journalism ensure and promote diversity in the media presentation and prevents discontinuity in the global media age?
REGPRESS is funded through a partnership between the Barometern Foundation, Linnaeus University and Fojo Media Institute (FOJO).
The project started in 2015 and scheduled to be completed in 2017.
Newcastle 15/5 - Second day
Today was our first day at Newcastle University. It was a fruitful day of working on our project.
Tomorrow we'll meet PhD students and talk about how it is to work with research as a team.
We were also introduced to (in some of our perspectives) the best tea ever! The hazelnut brittle was fantastic.
Make sure to check our Twitter account to get all of the newest updates: @Regpressproject
All the best,
The Regpress team.
Arriving at Newcastle University.
Newcastle 14/5 - First day
Our first impressions of Newcastle has been fantastic!
We were all a bit tired from all of the travelling yesterday. We decided upon some sightseeing and went exploring.
Big thanks to our tremendous guides, Bridgette (PI of the project) and Michael, they really showed us the wonders of Newcastle.
The highlight of the day was fish and chips down at the coast. The view was just ... breathtaking!
Tomorrow, the work begins and more updates will follow during the course of the week. Make sure to check our Twitter account to get all of the newest updates: @Regpressproject
Best of wishes,
The Regpress team.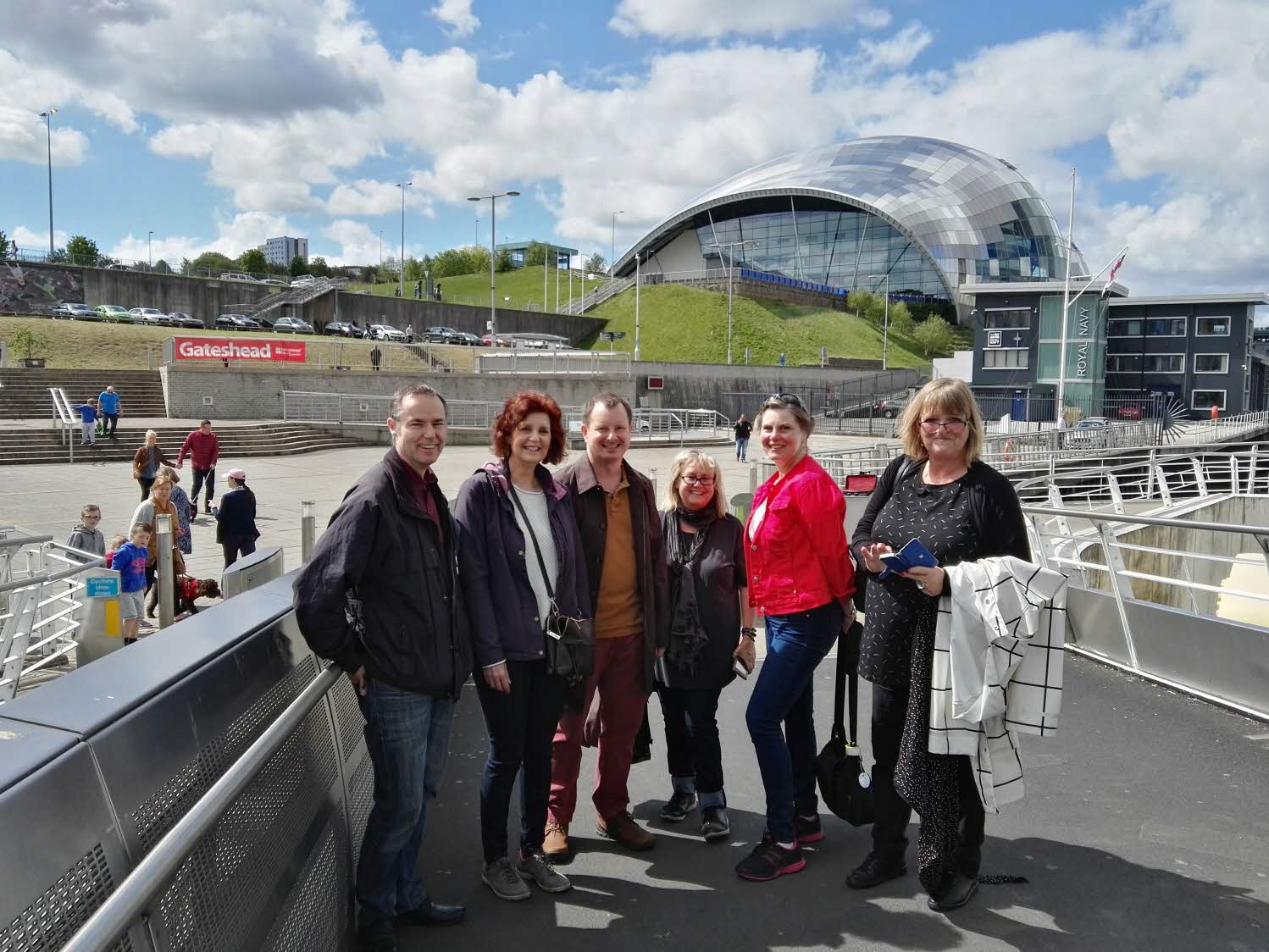 The Regpress team exploring Newcastle on our first day here.
Events
Trip to Newcastle with workshop, 13-19 May, 2017
At the end of next week, Regpress will travel to Newcastle for a full week of interesting meetings and discussions. During our stay an international workshop will take place, on the 18th of May; with researchers and practitioners from Sweden, the Netherlands and England.
A Local World, 16-17 November 2016
A Local World is the event devoted to newspapers outside the major cities. During the day there will be time for lectures, hackaton, mingling and conversation. The organizers are most significantly involved in the development of the daily press and they are: Linnaeus University, Gota Media AB, Infomaker Scandinavia AB, FOJO and Kalmar municipality.
News
The REGPRESS project is embarking on a new chapter of our research. Out material is collected and ready to be processed.
We have conducted 65 in depth- inteviews with readers from our selection area, 8 focus groups with more specific issues, 9 interviews with journalists and editors, as well as close to 9500 respondents to our survey. Now we are ready to take the next step with our research and begin to process the material.
If you are curious and want to know more, updates will be published ongoing here on our website. You can also follow us on Twitter to not miss our latest updates: @REGPRESSproject
Orientation
The regional press project will collect qualitative and quantitative data from the four sub-regions in the southeastern and southwestern part of Sweden, which all belong to Gota Media, a company that produces local and regional media. The project will examine the data using a conceptual model for the regional press, which makes it possible for the project to address the fundamental and overarching research question:
What role and what value has regional media in a global media age?
Purpose
REGPRESS will generate academic results and insights as well as direct input to the regional development of life. In particular, the project aims to directly impact and understanding of the regional press, importance and role in society through cooperation between Gota Media, Linnaeus University and FOJO.
Background
Identification of newspapers
All of our research areas have a dominant daily newspaper, with about 40-50 percent of the total household coverage.Kalmar has Barometern Oskarshamns-Tidningen, Växjö has Smålandsposten, Blekinge has Blekinge Läns Tidning and Borås has Borås Tidning. Almost all of the areas also have a noticeable secondary paper as well.
Most of the papers as seen above showed a decline in circulation, this is coherent with the current trend on a national level; both on a local and national level the percentage of subscriptions have decreased by a few percent during the last years and it's an ongoing tendency.As the subscriptions of the newspaper decreases the revenues follow.
(Source: TS Media and Nordicom)
Click here to read more about the identification of newspapers in our research areas.
Demographics and socioeconomics
The population in these areas was close to a 50 percent each division for females versus males, however Kronoberg county and Blekinge county had a slim over representation of males.
The age division of the population was similar in the different areas, although Kalmar county and Blekinge county had a higher percentage of an older population and Västra Götaland county had a higher percentage in the age group 45-64.
In regards of education these areas show a somewhat higher percentage than the national average of those who have a secondary degree education as the highest form of education; highest percentage in Kalmar County and lowest in Västra Götaland County. In regard of post-secondary degree education these areas showed a lower percentage than the national average, all of the areas were below the national average. In the top professions, the professions which didn't require a post-secondary degree education had a majority, in all of the counties.
The counties of Kalmar, Blekinge, and Kronoberg had a lower income than the national average, while Jönköping County and Västra Götaland County were above the national average; although all were in close approximately to the national average.
The political landscape in the latest election was similar in the different counties, with a few deviations. The social democratic party gained the most votes both in the municipalities, counties and on the national level.
(Source: SCB and Valmyndigheten)
Click here to read more about the demographics and socioeconomis in our reseach areas.
Preliminary content analysis
The titles of interest (i.e. the main papers of each region), as identified earlier in the project, are Blekinge Läns Tidning (Blekinge), Barometern OT and Smålandsposten (Kalmar and Växjö respectively) and Borås tidning (West coast).
The four papers under investigation are quite similar in terms of structure and content (generically speaking). Even though they sometimes name their sections differently or change the order of certain sections, the general structure remains the same. This is not surprising due to institutionalizing forces present in all sectors of industry and even less surprising due to the fact that all the papers are part of the same owner group, Gota Media. What changes however, between the different titles as well as the days of the week, or the days of the year for that matter, is the actual content. With the exception of perhaps some news bureau material and some of the highly redundant material (e.g. crosswords, TV-guides, etc.), the notices, calendars, news articles and even the classifieds are of course unique for the dominant paper of each region. At this level of analysis then, it is the structural arrangement of content, in and between the papers, that is interesting.
Click here to read more about the preliminary content analysis of the main newspapers in our research areas.
Individual research areas
Bridgette Wessels, Project investigator, Newcastle University
Bridgette Wessels is a visiting professor at Linnaeus University. Her research focuses on the way that innovation and the use of digital technology and digital services interact in society. She has undertaken research into how digital services interact with important areas of life, namely in the media and related areas such as social inclusion, health, social and economic integration, cultural participation, publicity and e-services. Her research is interdisciplinary and examines the cultural dynamics of social and technological changes. She has received research funding from the European Commission, the UK's research councils and government agencies. She has written six books and published articles in various media and community magazines.
Annelie Ekelin, Co- project investigator, Linnaeus University.
Annelie Ekelin is a senior lecturer and researcher at the Department of Media and Journalism at Linnaeus University. She has a professional background in journalism and a doctorate in work science with specialization in IT. She has focused on user involvement and use aspects of service design and digital development. Her experience includes expertise in the interaction, accessibility, participatory design, ICT and new media formats and methods. She has experience from several local and regional projects and national partnerships. She has participated in several EU projects on e-government (e-participation) and more recently in a project on the development of integrated journalism in Europe as well as national development AOM Augment project (BTH) and BIP project (Mid Sweden University, Linnaeus University and Umeå University. She was in 2012-2015 appointed member of the Swedish government's national forums regarding the accessibility and usability, and participate in the newly created Linnaeus University Medial Center for Inter and Multimodal Studies (IMS).
Emelie Kempe, project assistant, Linnaeus University
Emelie Kempe is a lecturer and project assistant at the department of media and journalism at Linnaeus University, Kalmar.
The main point of research during her magister thesis was to investigate how the Swedish political parties used social media in governmental election of 2014. This opened up her eyes to the possibility to work with research.
Anette Forsberg, senior lecturer, Linnaeus University
Anette Forsberg is a senior lecturer at the Department of Media and Journalism at Linnaeus University, Kalmar. Her main interest of researcher is journalistic content with a focus on processes and conditions for how news is created and constructed. This includes the perspective of journalistic texts, relationships between journalists and their news sources and even journalism ethics. Her doctoral thesis was a study of the experiences of the bereaved to participate in news reports about the grief associated with crime and accidents.
Britt-Marie Ringfjord, lecturer, Linnaeus University
Britt-Marie Ringfjord is a lecturer and researcher in media and communication studies at Linnaeus University. Her research interests include gender identity and how power relations are included in the sports journalism and in people's everyday culture. She has experience in field work, interviews and ethnographic methods. She is currently a part of the newly established Linnaeus University Medial Center for Inter and Multimodal Studies (IMS), the project Trans Mediation as aid for sensorial and cognitively impaired persons - by providing studies on media representation of disability and gender. This connects to her commitment to gender and equality issues as democracy and citizenship where the media plays an important role and help support community involvement and participation.
Mats Wahlberg, lecturer, Linnaeus University
Mats Wahlberg is responsible for the subject media production and the program "Journalism and media production" at Linnaeus University. His professional interests include media production, audiovisual communication and design and multimodality. Mats Wahlberg also has a background in IT and media entrepreneur, director, writer, media producer and teacher.