Eleonor Marcussen is a Researcher in History in the Department of Cultural Sciences and member of Linnaeus University Centre for Concurrences in Colonial and Postcolonial Studies (LNUCC). She joined LNU as a Postdoctoral Fellow in 2018.
Current research project (funded by the Swedish Research Council, Vetenskapsrådet): Tracks through nature – the railways and environmental consequences of colonial infrastructure in India, c. 1860-1870
Programme coordinator of the Master's Programme in Colonial and Postcolonial Studies.
Acts of Aid: Politics of Relief and Reconstruction in the 1934 Bihar–Nepal Earthquake examines the organization of relief and reconstruction work by civil society and the state in India in the 1930s. In the field of historical disaster research, her interests include the perceptions of risk, the introduction of new building technologies, humanitarianism and the politicalization of disasters.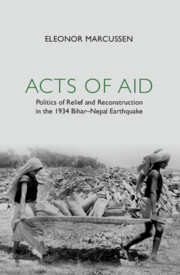 Publications