International Sales and Marketing
180 hp
Skapa och utveckla lönsamma affärer! Programmet ger en kvalificerad grund för arbete med internationell försäljning och marknadsföring till företagskunder. Ges av Linnéuniversitetet på CIL i Ljungby.
International Sales and Marketing handlar om internationell försäljning och marknadsföring av produkter och tjänster till företag (B2B). Du kommer huvudsakligen studera professionell försäljning och marknadsföring men även företagsekonomi, psykologi och juridik. Utbildningen varvar klassrumsundervisning med projektuppgifter och bjuder regelbundet in föreläsare från näringslivet. Under hela utbildningen arbetar du i grupp och utför flera uppgifter på ett partnerföretag. Den femte terminen tillbringar du ute på ett av våra partnerföretag och arbetar individuellt med ett skarpt projekt.

Programmet ges på CIL i Ljungby - en mindre studiemiljö med stort fokus på kontakter med näringslivet. CIL har ett väl fungerande nätverk av partnerföretag som ser ett värde av att utbyta kunskaper med studenter. Du hinner skapa många bra kontakter som du har nytta av när du ska söka jobb. Är du målinriktad, gillar att träffa människor och vill jobba internationellt kan detta vara programmet för dig! Programmet har 30 studieplatser, varav 15 studenter antas i den nationella antagningsomgången och 15 i den internationella. International Sales and Marketing ges på engelska och en termin är förlagd utomlands, vilket ger programmet en stark internationell karaktär.
Karriär
Efter examen har du redskapen och kunskapen att jobba på en försäljnings- eller marknadsavdelning hos ett internationellt företag. Du kan t ex få jobb som exportsäljare, key account manager, regionchef, försäljningsansvarig, produktchef, inköpare eller projektledare.
Examen
Filosofie kandidatexamen med inriktning mot internationell försäljning och marknadsföring
Intervjuer med tidigare studenter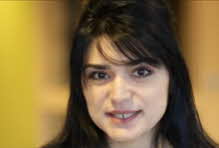 "I worked with HMS Industrial Networks"
What made you choose the International Sales & Marketing program?
— My case differs from average student. I was already 26 years old, when I entered the program with substantial practical working background in sales and marketing. I had my own business in Spain, that I operate for 5 years. Once I moved to Sweden, because of personal reasons, I took a decision to apply my practical knowledge with theoretical which I realized that I lacked. Another point was close cooperation with partner companies, which gave me an opportunity to discover business environment in Sweden.
What was it like being a student at CIL?
— It was an adventure. Different cultures under one roof, working in multicultural groups, fun assignments. Being a student at CIL, made me realize one personal trait that was unknown for me — to be a team player. Coming from rather individualistic upbringing, it was my biggest challenge, which CIL helped me to overcome.
Which company was your partner company during the program?
— I worked with HMS Industrial Networks. It was one of the most important part of the whole program for me. Jurgen Bishhaus that was our contact person, is still my mentor and a lot of my professional success is because of his valuable advices. We continue having brainwashing sessions still nowadays to help each other to see our industries from different perspectives. Every assignment was thought-provoking, as HMS has a very specific product which is not easily applied to theoretical base, therefore we had to really think outside the box to be able to finish our tasks. We used to joke about it in our group; 'Ok, now lets do it the HMS way, which is totally unorthodox way of thinking'.
Where did you study abroad? (what was it like?)
— I went to Bern University of Applied studies which was special. Educational system of Switzerland is very similar to the one we have in Ukraine (my origin). A lot of pressure, no excuses, various subjects in the same time period, a lot of demands and high level of general knowledge. It was tough, kinda military style, competitive, nevertheless extremely useful.
What happened after graduation?
I got a job before I graduated.
Describe your job at OctoFrost?
— My title is Area Sales manager responsible for Eastern Europe, Central Asia, Balkan and Baltic states and Iberian Peninsula. One of the main satisfactions that I receive from my job, is that together with OctoFrost we are developing a segment of industry that is not developed, helping such countries as Ukraine, Uzbekistan, Bosnia to become competitive in the global frozen food market, providing real quality individual quick frozen fruits and vegetables and lower the food waste.
What are you working with at the moment?
— Right now I have various projects in Uzbekistan, which was not tapped in before. Since I started I "activated" emerging markets, which I found very interesting. It is a different approach which require a lot of knowledge and desire to go one step further, try harder and be a bit better in everything. Sales per se are perceived differently. You are not only a sales person, you are a consultant and teacher. You need to take your customers' hand and walk with them through the whole process, assisting them, educating them to establish trust. Blue ocean theory is the one that drives me and help me succeed in these markets.
Something else you would like to mention?
— I would do sales and marketing program over and over again, it helped me develop both professionally and more importantly- personally. I would also like to discuss a possibility for OctoFrost to become one of the partner companies for next academic year.